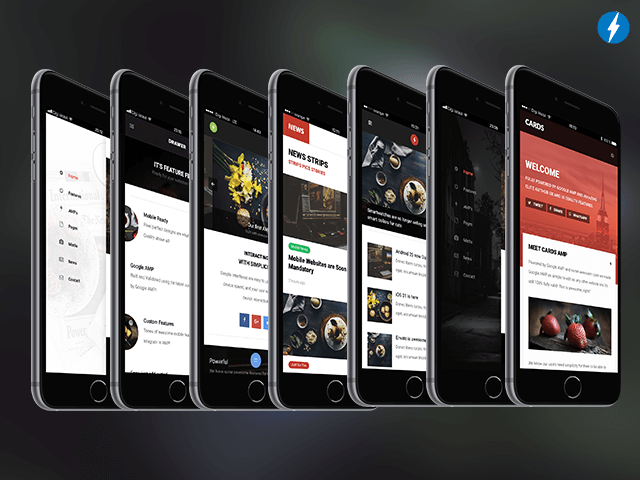 With technology always evolving so is the mobile web, and Google AMP although still an infant technology has some beautiful and awesome products to offer. Here are our top picks for the best Google AMP Mobile Templates to rank your page higher in Mobile Search Results and boost your page load to insane speeds.
AMP Pro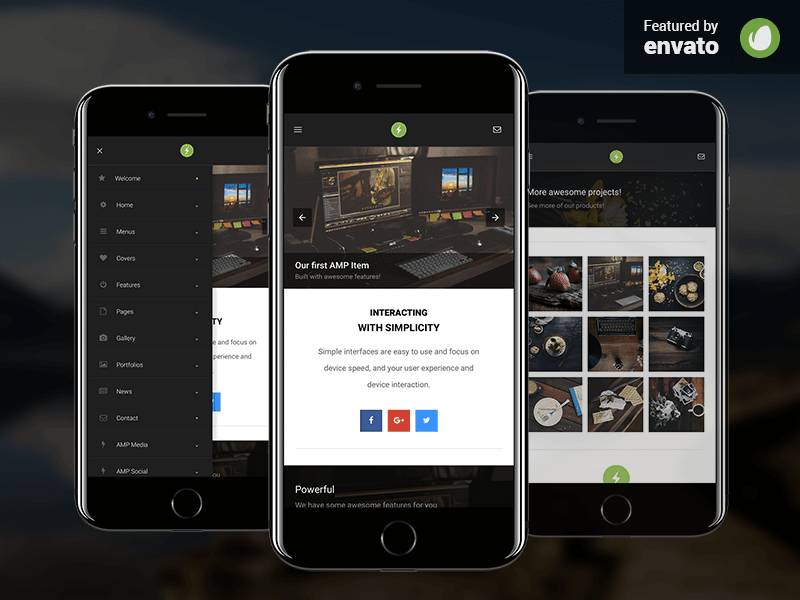 AMP Pro is the only Google Mobile Template in the world to use a navigation that has animations both in it's deployment and retraction, this is due to the fact that AMP Pro uses CSS3, pure CSS because Google doesn't allow any sort of javascript libraries, making AMP Pro a truly unique beast. Get AMP Pro today from ThemeForest today!
AMP Material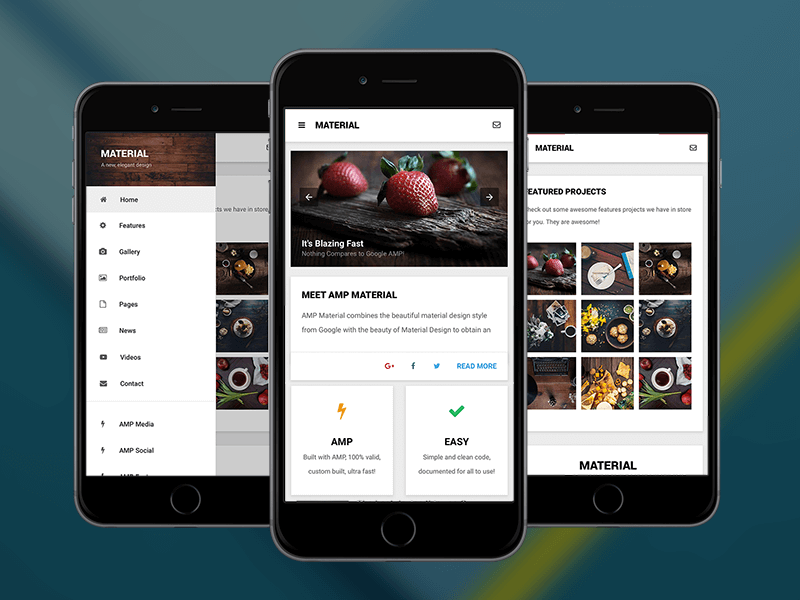 AMP Material connects 2 incredible Google branded products into one, The Beauty of Material Design and the Ultra Performance of Google AMP to provide a beautiful Mobile Template. Get AMP Material today from ThemeForest today!
AMP Home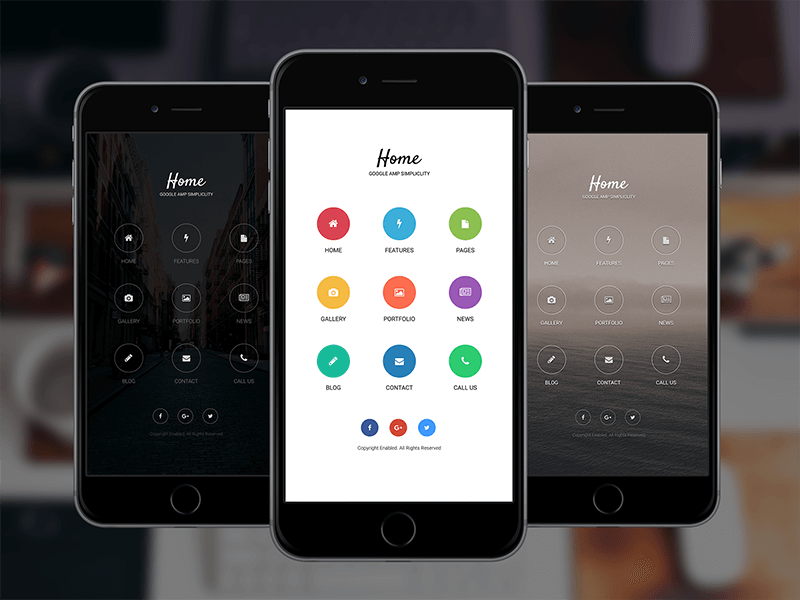 Be greeted by 6 amazingly beautiful Landing Page styles, combined with every style to provide a unique welcoming experience. Tap any icon and you're instantly sent to the page of your choosing. Fast, efficient, and fully powered by Google AMP it's one of a kind mobile template with a gorgeously fast interface. Get AMP Mobile today from ThemeForest today!
AMP Yummy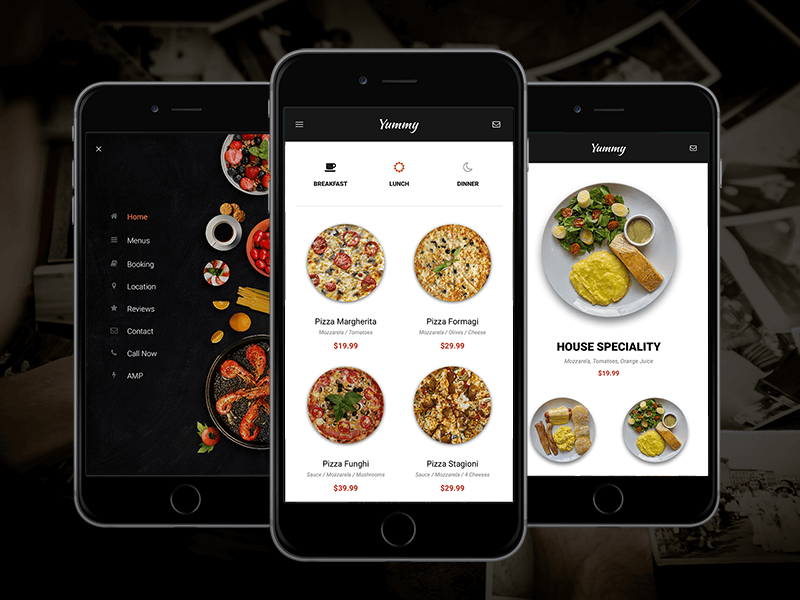 Google AMP Is the perfect solution for your mobile restaurant. For a very simple reason, in fact, it's technology will rank your page higher by default, and it will load in a heartbeat. Google AMP is made for static content, perfect for restaurants. You add your menu, you upload your page, and AMP will do the rest. Your customers will see your page on their mobile device in an instant. Get AMP Yummy today from ThemeForest today!
AMP Insta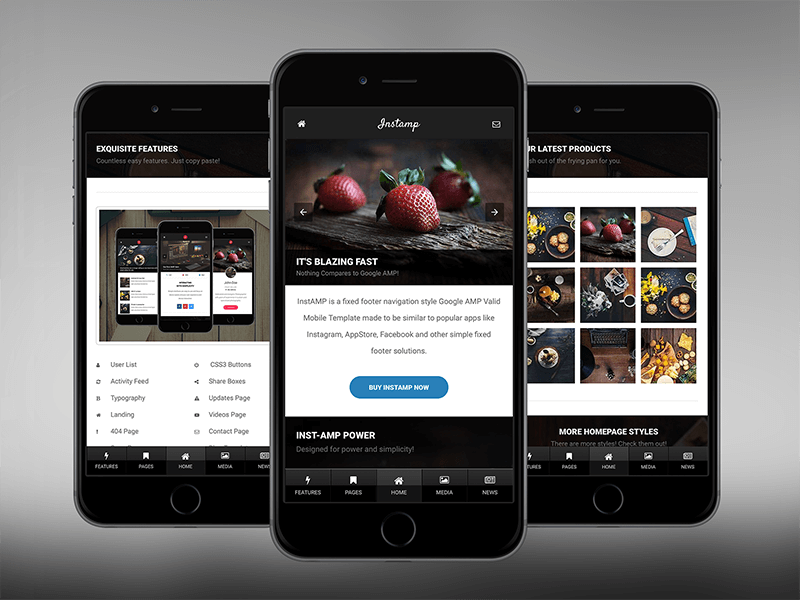 AMP Insta is built around the concept of ultra easy, ultra fast, and ultra simple page browsing. Powered by AMP it will give your page a higher ranking mobile search status and an instant way to move around your page. Get AMP Insta today from ThemeForest today!
AMP Drawer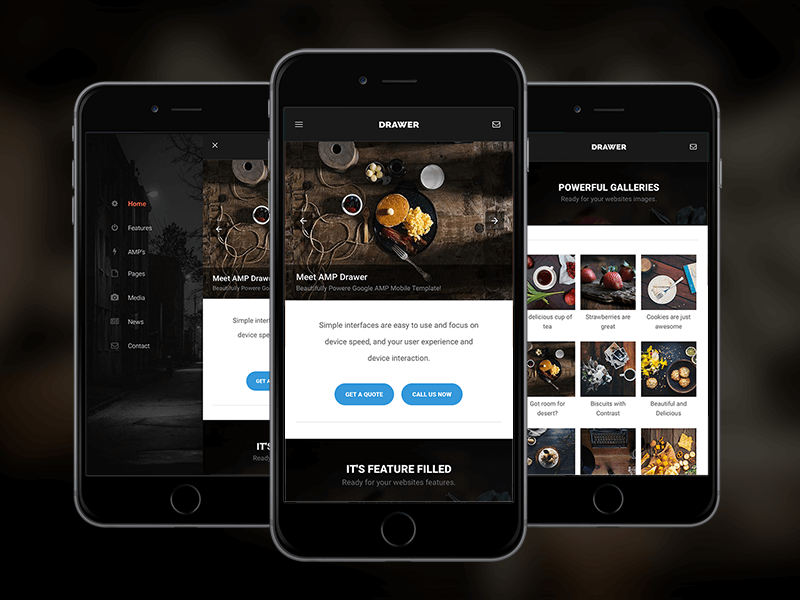 AMP Drawer is designed for simplicity of interaction, with smooth animations, a gorgeous user experience and all backed up by AMP. A fluid animated sidebar with a depth effect will make your AMP Page stand out from the crowd. Get AMP Drawer today from ThemeForest today!
AMP Card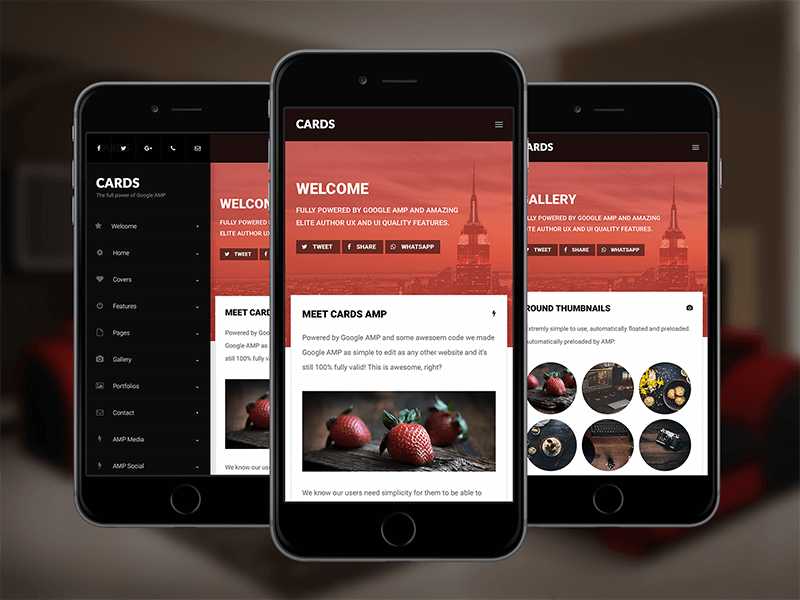 AMP Cards is a beautifully designed card like design calculated to perfection for small screen mobile devices and large phablets as well. Built from the ground up to use simple, fast and efficient code to make your life easier and your loading times much, much faster. Get AMP Cards today from ThemeForest today!
AMP News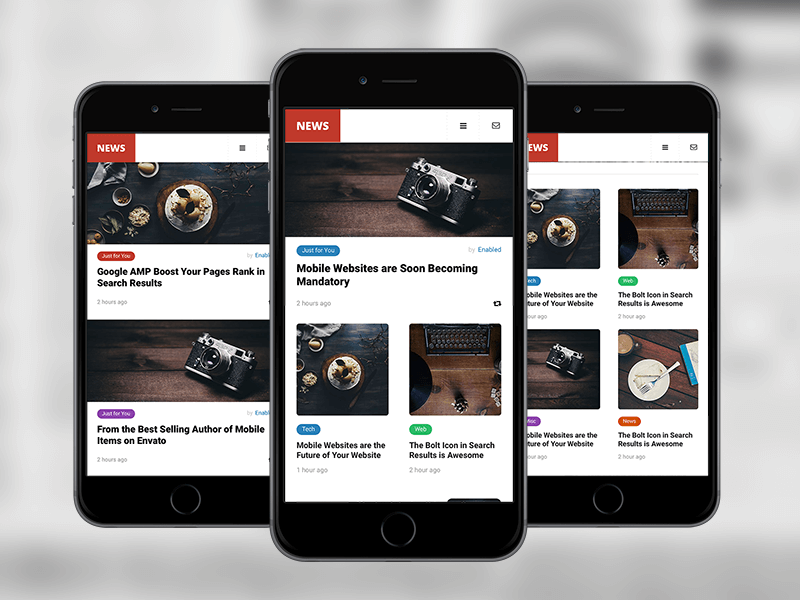 Built with Google AMP this is probably the best example of why AMP is awesome, making your news pages load instantly. Connect this page to a CMS and you get the fastest news page in the world. Get AMP News today from ThemeForest today!
AMP Mobile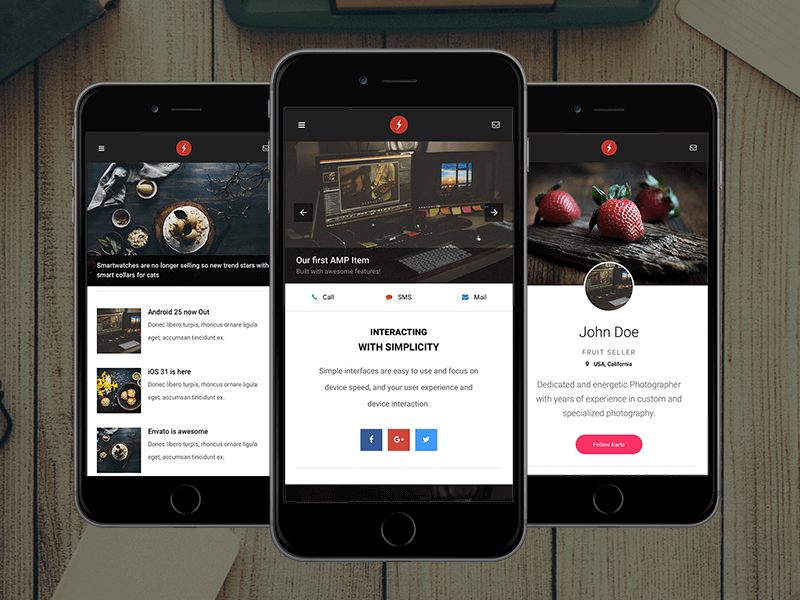 Designed with one thing in mind. A powerdul design coupled with the latest and easiest Mobile Framework in the world. Simple, fast, elegant, and incredibly easy to work with. Get AMP Mobile today from ThemeForest today!