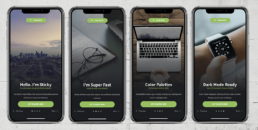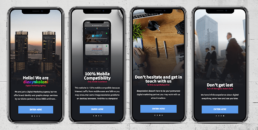 There are tons of ideas of how you can use our products in order to meet your needs. In this Article we'll take a look at one of our customer's website. This digital marketing agency, Dizaynkoloni, made an incredible job using our product, Sticky Mobile, to create their mobile website! If you want to have your own mobile website, we wait you on our online store!
Made With Enabled | Dizaynkoloni
They chose to use some of our pages in their website: The Walkthroughs, the homepage, the about page, under construction page, the team page and the contact page! They did a beautiful job using the dark skin of Sticky Mobile and they have implemented their own colour palette choosing a beautiful pink that matches perfectly with the overall skin.
In their website, you will be able to see some of the components we provide in Sticky: Graphs, Testimonials, Caption Blocks, Buttons and one of our favourite touch: A Team Page having the Breaking Bad Theme!
Finally, there are many ways we can describe them as a company, but they to it better! Therefore, below, you will see how they describe themselves and their services.
About Dizaynkoloni
"Our computer skills and internet wisdom transformed into dizaynkoloni in 2012 exactly, until now. We are a digital marketing agency in case of need by now. When you loved us, lifetime partnership is always available but if we don't have any client of your sector. You may have some professional staff or you are already working with a creative/marketing agency, it doesn't matter because we love to work crowded and share experience!"
Get Featured On Our Blog
Are you one of our customers who used one of our products to build their mobile website or app? Make sure you send us an email at marketing@enableds.com and get one special post that features your website!