Tempus XR | Made with Enabled – Sticky Mobile
Another amazing implementation of one of our products hits the "Made with Enabled" list! This time, we see the vision of IRLLab and how they used our #1 Best Selling Mobile Kit & PWA, Sticky Mobile, to create an amazing augmented reality based app. How cool is that!
In Real Life Laboratory (Twitter & Facebook) they have accepted the #100DaysofCode challenge and presented their TempusXR app, created using Sticky Mobile!
Here are some insights they shared, shown together with the original pages found in Sticky Mobile: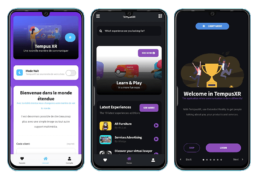 #1 Best Selling Mobile Kit & PWA – Sticky Mobile
Sticky Provides tons of amazing features that will exceed all your expectations! From providing Dark & Light Mode with one single tap, to being PWA ready and offering the possibility to customise it easier than ever!
See some of our amazing customers' reviews!
The best ! We couldn't ask for more! Customer service is great. Everything works perfectly. There is nothing negative to be found. The person who created this app is awesome and very nice. I highly recommend. ⭐⭐⭐⭐⭐  mikaelzmobia

If I can pick more than customer support I would have. However, for me customer support is most important. For someone who has lesser experience in front end apps -(myself)- the sticky mobile seems to offer a great library of options to work with. I would highly recommend it for anyone who is planning to get into the progressive web application (PWA) world, which in my opinion is the future of apps (soon iOS will adapt!). ⭐⭐⭐⭐⭐  hazojj

What can I say… second template I bought from Enabled and both the coding quality and technical support from the team are the best I've ever seen. Questions are answered almost in real-time, no matter if we are in Covid times, Saturday night or whatever weird hour I have a question.The template itself is beautiful and now that it's rewritten in Bootstrap 4.4 [updated to 4.5] even better than before and I can't say enough times how happy I am with it. If in doubt to buy or not just do it, you won't be disappointed. Enabled templates and support just make your live way easier.  ⭐⭐⭐⭐⭐  jaycreative
Check Out Sticky Mobile
Get Featured On Our Blog!
Did you create an awesome website using one of our products? Or a super cool app? Make sure you send us an e-mail at marketing@enableds.com and benefit from your own post on our blog! Make sure you also use #madewithenabled so we can see your awesomeness on social media!