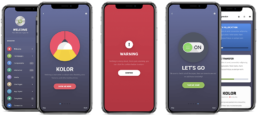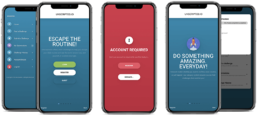 Shake your life up with unscripted.io!
It's a great app that wants to challenge you into doing something great and easy everyday.
They did an awesome job using our product, Kolor Mobile, to create the perfect app for people who have a daily routine, but who also want to be reminded to do small things that count.
Unscripted.io is a PWA basically, that is made on the body of our most colourful mobile website template: Kolor Mobile. The developers chose the blue background colour that we have provided in our product and combined it beautifully with the light skin on Kolor.
This app not only allows you to complete some daily challenges that you find in it. However, it also lets you suggest your own challenges so other people can join you in completing them.
There are many domains that are challenged. It is not the type of app that is only for sports or for spiritual motivation. They start from educational, spiritual, social, financial, health, relationships, environment challenges up to the most exciting and creative ones! All of the aspects in your daily life are targeted using the most beautiful User Interface!
Features
Moreover, this app tracks your achievements and completed challenges to keep you even more motivated into spicing up your life!
Do you want to hear the best part? It is completely free and it only requires your e-mail to register. It's that easy. However, if you do not want to register, then you can enter it as a Guest. But you may know that some features, such as suggesting challenges or tracking your activity, cannot be completed without registration.
So, what are you waiting for? Go now to unscripted.io ( click here ) and make sure you register and start your daily challenges!
And of course, drop an eye into our online store and portfolio to your Mobile Website Template and give life to your own ideas!
If you already have a website or app created with one of our products and want to be featured on our blog and social media channels, drop us an email at marketing@enableds.com with the URL to your website!
Get Featured On Our Blog!
Did you create an awesome website using one of our products? Or a super cool app? Make sure you send us an e-mail at marketing@enableds.com and benefit from your own post on our blog! Make sure you also use #madewithenabled so we can see your awesomeness on social media!