Mobile devices have evolved, a lot, and together with better screens and more memory, mobile devices have started having more and more graphics processing power. We compiled a list of the best premium mobile templates that take advantage of great effects, while, at the same time working with older devices as well!
We'll include both Google AMP Mobile Templates and Classic HTML, CSS and JS Templates, so you can choose whichever you prefer. Please note, that AMP is not at the same level with HTML, meaning, it does provide some nice effects, but, with the lack of JS, those effects can never come close to a Classic Mobile Website that uses jQuery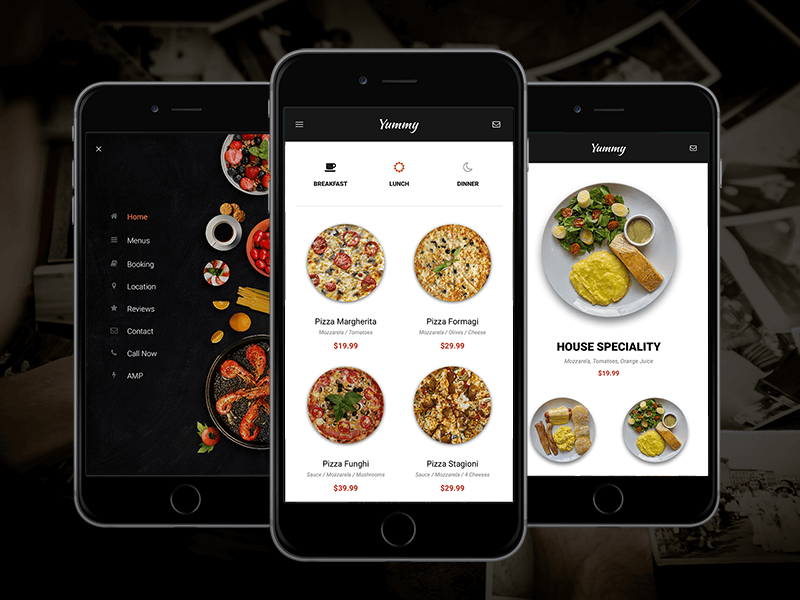 AMP Yummy – Google AMP Mobile Template
If you're looking for a gorgeous design to spice up your mobile restaurant website, AMP yummy is the closest you'll ever get to a great effect in AMP. Powered by a gorgeously designed sidebar menu that look like a fancy restaurant menu, AMP Yummy looks and feels gorgeous on your phone.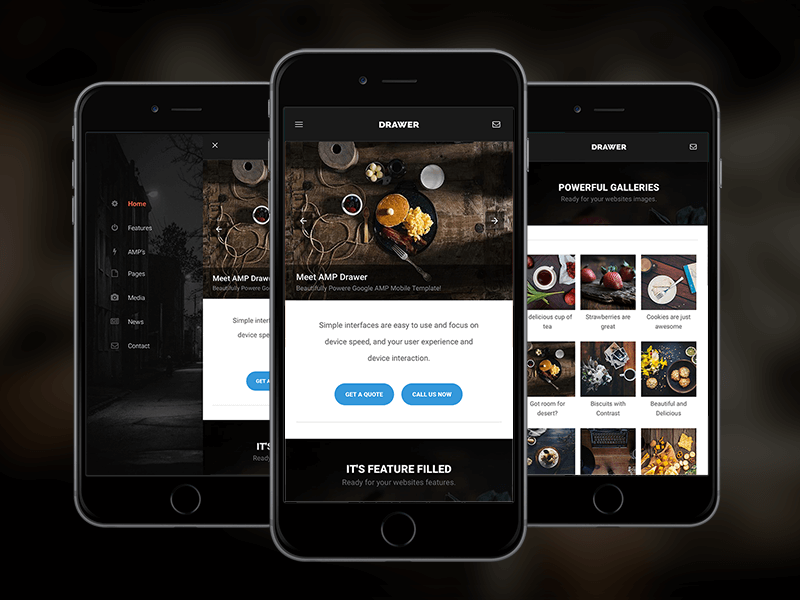 AMP Drawer – Google AMP Mobile Template
Amp Drawer creates a sidebar that when opened, shows the menu in a unique depth effect. Make it larger or bigger and take advantage of AMP's insane loading speeds to make your page load fast, and look incredibly unique at the same time.
Bolt 3D – HTML Mobile Site Template
A truly unique design that has a gorgeous 3D perspective sidebar to spice up your page. Bolt uses CSS3 to obtain the most performance out of your device, regardless if it's old or new. It will spice up your page and make it look absolutely unique on your mobile screen. Bolt provides all the pages you need to create a simple and elegant site.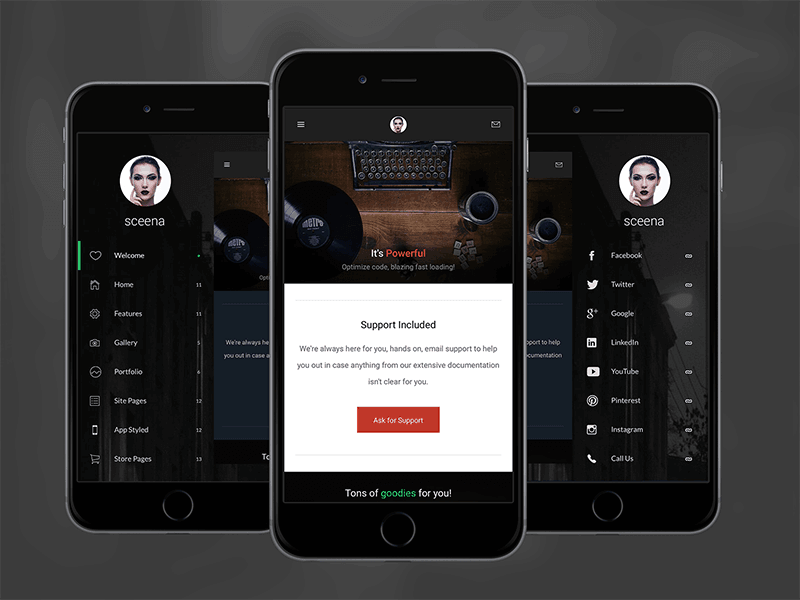 Sceena 3D – HTML Mobile Site Template
Like Bolt 3D, Sceena 3D uses an amazing sidebar transition with perspective effects, with submenus and submenu count Sceena makes your page feel like a gorgeously designed app, while at the same time adding a unique 3D effect. Sceena uses a tone of pages, for all uses and scenarios.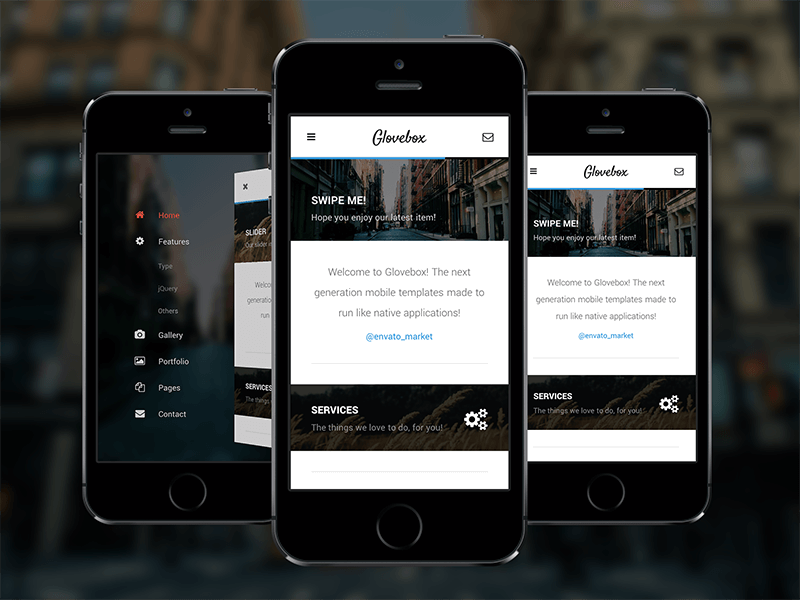 GloveBox 3D – HTML Mobile Site Template
Glovebox is the liter version of Sceena and Bolt using simple pages but providing the same incredible 3D perspective sidebar effect. With just the right amount of pages GloveBox is the fastest loading of them all, even though it doesn't have all the pages as Bolt or Sceena do.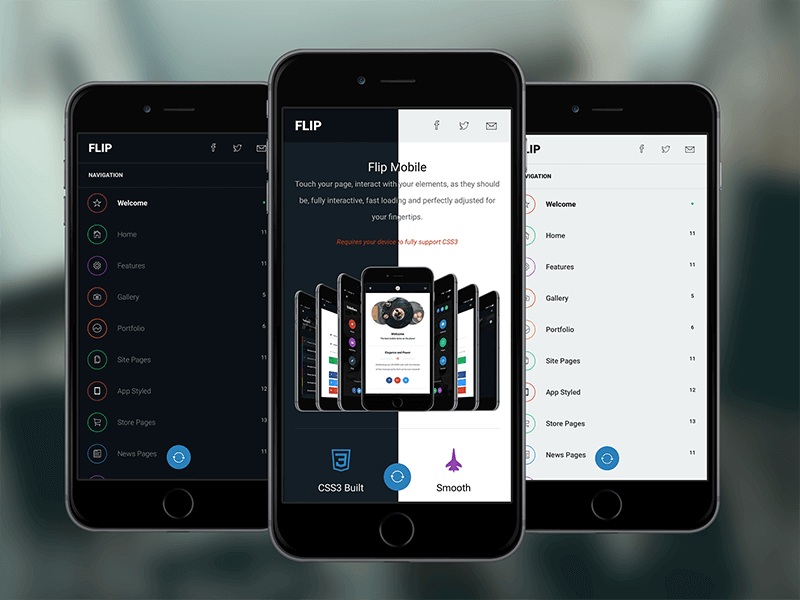 Flip 3D – HTML Mobile Site Template
Flip 3D rotates your entire screen, yes, your entire screen to show the site menu. It's fast, incredibly well built, and your menu is always a flip away. Using CSS3 and fallback techniques it will look great on all your devices. Plus, you can get Flip 3D as a mobile Cordova app as well!
Download Flip 3D Website
Download Flip 3D Cordova App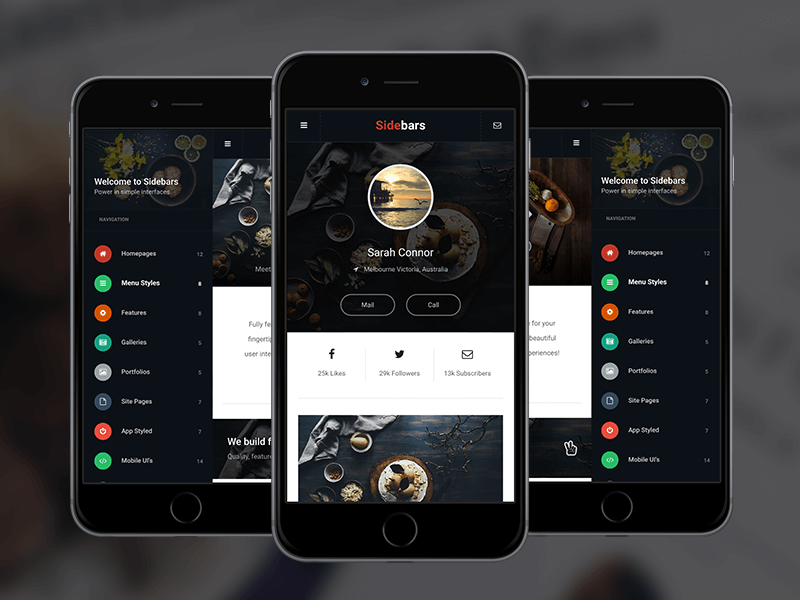 The Ultimate, Sidebars 3D – HTML Mobile Site Template
Sidebars 3D is the most complete solution when it comes to a, well, 3D Sidebar effect. Providing over 100 pages, 12 homepages, 8 navigation styles and AJAX 3D sidebar loading to provide an insane package at a great price!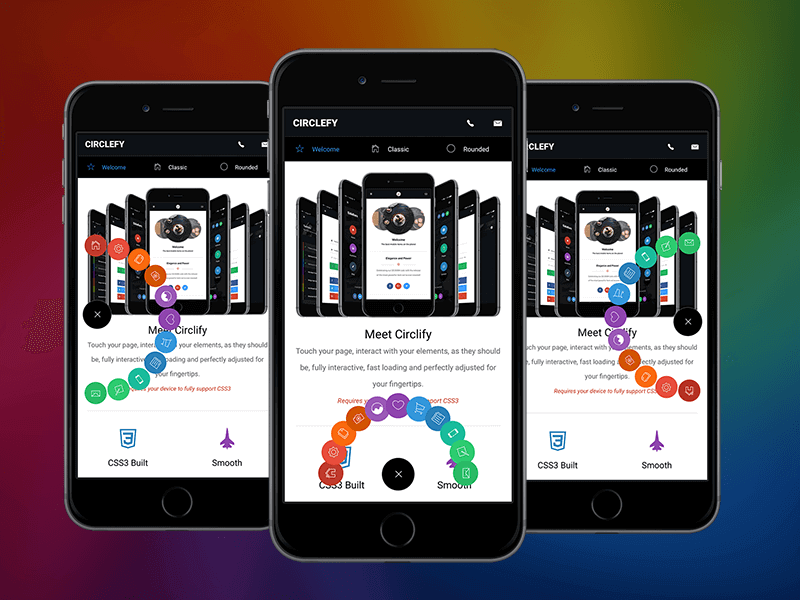 Circlify – HTML Mobile Template
Circlify is a simple design, one menu button, that opens up in a flower like effect to expose your menu items. With over 95 pages to select from and 2 site skins, it's a powerhouse with a creative touch!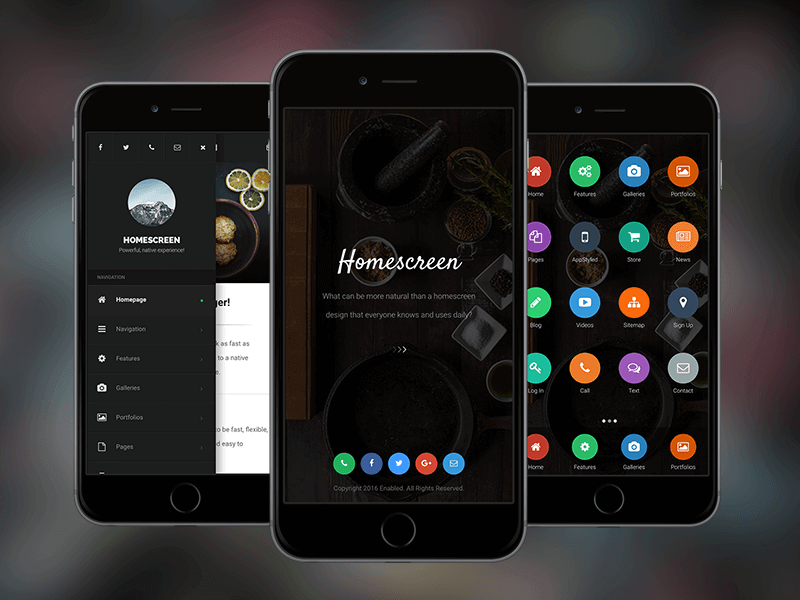 The HomeScreen- HTML Mobile Template
You like your Android or iOS Homepage design? Great! Homescreen does the same thing! A website that looks exactly like your launcher, and works like one as well. Featuring some small widgets and a tone of icon styles, it's a unique and gorgeous website. There are over 65 pages to choose from!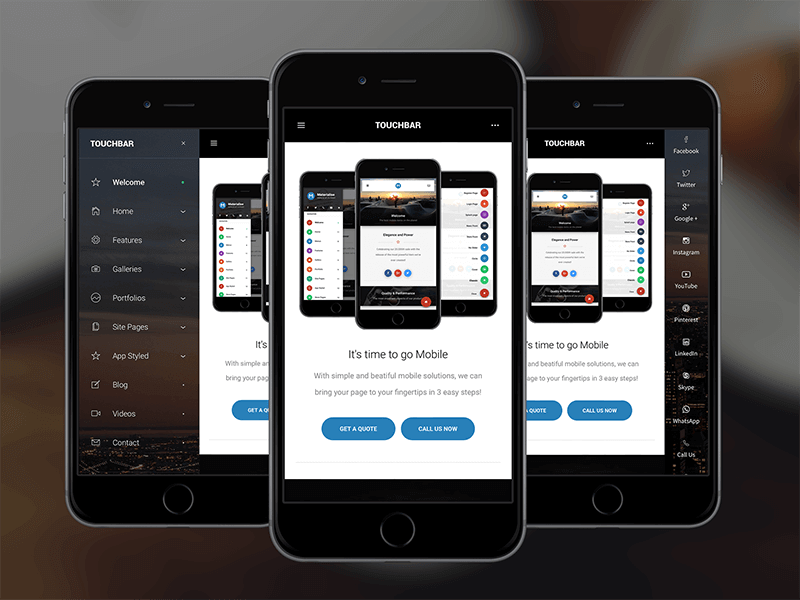 TouchBar- HTML Mobile Template
A beautiful perspective style, combined with 60 pages, and, individually fly-in, fade in, zoom in, animated elements will stun you with their fluidity and speed of use. Touchbar is a great and elegant multipurpose design.
Conclusion
If your aim is the speed of a page and you're willing to compromise on design, then you can see our Top 10 Best AMP Mobile Templates two of which are featured right here at the top of the page, but if you're looking for a balance, between fast loading times and an incredibly smooth and beautiful design to take advantage of that powerhouse you have in your pocket, not to mention to get the "wow" effect from your users, then these items are for you!
Do you agree with our list? Have you seen some awesome mobile templates with sweet effects worth sharing? Let us know in the comment section!
Cheers!