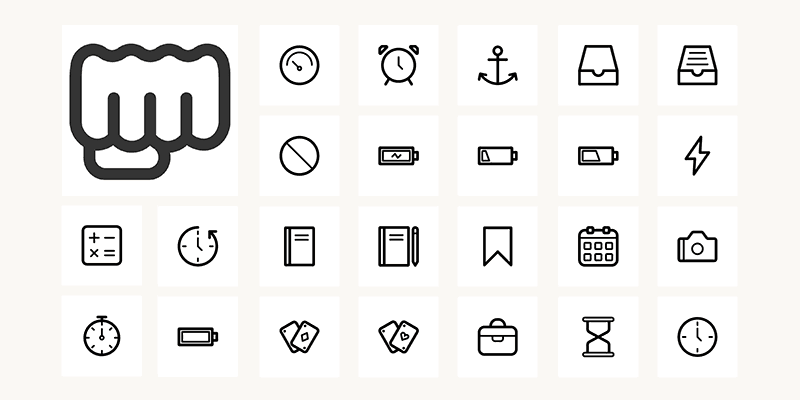 We're always on the lookout for great elements to have around just in case we need them and to learn new things, and it's rare that we find icons as well crafted and awesome as the ones built by IconBros.  At the time we're writing this, there are 229 icons available, and their list is slowly but surely increasing, and as time passes so do more awesome and absolutely stunning icons appear, completely free!
How do I get them?
You can download any of the 229 and growing icons from IconBros in PNG or SVG format, and they also provide the awesome option of downloading them as a CSS font, which will make life a lot easier for all you front end developers. An awesome page that must be checked. Start downloading by going to IconBros.com
What's the cost?
There is no cost, apart for the fact that you must  read the license prior to use, because the icons are 100% free for personal use, so be sure you read the license prior to  downloading them so you don't get in some legal trouble.  We made a copy of it here to help you decide how you wanna move forward, but, it's best you read their official license here for future clarification.
You are allowed to 
Licensee may use the Work in non-commercial and commercial projects, services or products without attribution.
Licensee may use the Work for any illustrative purposes in any media, including, but not limited to, websites, web banners, newsletters, PDF documents, blogs, emails, slideshows, TV and video presentations, smartphones, splash screens, movies, magazine articles, books, advertisements, brochures, document illustrations, booklets, billboards, business cards, packages, etc.
Licensee may use the Work in template or application without attribution; provided, however, that the Work serves as part of the design and is not the basis or main component of the product, template or application distributed by Licensee and is not used contrary to the terms and conditions of this Agreement.
Licensee may adapt or change the Work according to his or her requirements.
But, you are prohibited / not allowed to 
Licensee may not sell, redistribute, sublicense, share or otherwise transfer the Work to other people or entities.
Licensee may not use the Work as part of a logo, trademark or service mark.
Licensee may not use the Work for pornographic, infringing, defamatory, racist or religiously offensive illustrations.
So basically speaking, if you're building this for a customer, you might be out of luck, especially if your customer owns a porn site that wants a logo developed, but we believe those cases are rare. But, in case you're redesigning your page and you want some icons that truly stand out form the crowd, then we strongly and warmly recommend IconBros.
e sure to follow these guys on Facebook, where they go by the name AfterGrind
Until next time, enjoy the freebie guys!